Contact Us - FloridaDreamHomes.com
FloridaDreamHomes.com (#1 Dream Homes, Inc.)
7967 Sea Pearl Circle
Kissimmee Florida 34747
Tel: 407.396.2233
Fax: 407.396.4474

About Us
Florida Dream Homes (incorporated as "# 1 Dream Homes, Inc.") is a local, family owned and operated business that puts your family's vacation and travel needs first! We have been in business over thirteen years and are one of the oldest established and most trusted Vacation Rental Home companies in Central Florida. We believe in providing superior customer service. For us, this begins by letting you know who we are. We do not hide behind an impersonal website that only talks about our product. We also look forward to getting to know you better when you arrive. If you ever need to speak with the owners of the company, any team member will be happy to give you Lance & Karin's personal cell phone number.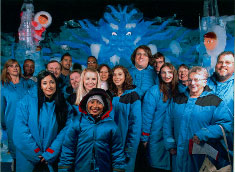 The Florida Dream Homes Team and their families at the ICE Attraction
Lance & Karin Boyer, Owners
Florida Dream Homes owners, Lance and Karin Boyer, met as therapists at a psychiatric hospital in Roanoke, VA when Karin interviewed Lance for an internship position. In addition to their current businesses, together they have owned a health food store, started a Montessori School, and founded a private school. Prior to moving to Florida, Lance had 10 years of success working for a Fortune 500 company, where he received numerous awards for his management, supervision, technology skills, and training ability. Karin has extensive experience working as a counselor and, more importantly, being a fabulous mother and wife. Lance has his Masters Degree in Expressive Therapy with a concentration in Psychodrama while Karin has her Masters in School Guidance and Family Consultation. Their family has been featured in the books Celebration USA and The Celebration Chronicles, as well as on NPR's "Living on Earth", and they have also appeared in the documentary "Celebration." They have three beautiful children who enjoy reading, theatre, art, video games, and ballet.
Your Name Here
Are you researching this page because you saw a help wanted ad on Craigslist? Are you reading this information and thinking to yourself, "this sounds like a great company, I would love to work there!" If so, please call Lance. We are constantly striving to grow bigger, better and smarter. Which means we're always looking to hire a new team member who would be a great asset to our team If you are an honest person with a great work ethic who brings creativity and positive energy to a team, we would love to speak with you. You can reach Lance at 407.396.2233.
Brandon Boyer, Lead Videographer
The fantastic videos you see of the homes were created by Brandon. When not creating videos, Brandon enjoys video games (particularly classic ones), movies, reading, anime conventions, and film festivals. You can often find Brandon enjoying a movie at Central Florida's premier art house theatre, the Enzian. And you will find him there almost every day of the Florida Film Festival.
Colin Boyer, Lead Photographer
The incredible photographs you see of the homes were taken by either Colin or Brandon, and then resized and produced for the website or print materials by Colin or Stefani. Demonstrating an artistic flair ever since he was young, Colin ended his senior year of High School by taking art classes at Valencia Community College where he was selected to be in the student art show and went on to win three scholarships, including Best in Show. Colin continued his studies in illustration at the prestigious Ringling College of Art and Design and recently presented a commissioned portrait to former Secretary of State, Condoleezza Rice. Currently, he lives in Sarasota and is on full scholarship at The Art Department--an innovative, new concept in teaching illustration.
Amber Boyer, Photographer & Videographer
Amber assists Colin and Brandon and is becoming quite accomplished behind the camera as well. She is just learning how to make videos of the homes using a digital movie maker program. She loves to read, watch anime, dance and spend time with her friends. She recently spent three years growing her hair so she could cut it off and give it to Locks of Love--A charity that provides wigs for people who lose their hair during chemo or other medical conditions.
Our Team
The Florida Dream Homes team is eager to assist you in making this your most memorable vacation ever. Upon arrival, you'll register with Stefani, Olga or Lance. Your home was professionally cleaned and sanitized by one of our top notch cleaners and inspected by Brittany or Karin. Once a week, our pool, lawn, and maintenance technician visits the homes to ensure the pools are sparkling clear, the lawn and landscape is luscious and properly trimmed, and the home is expertly maintained. The entire Florida Dream Homes family looks forward to meeting you and helping you to have the best vacation ever!
---